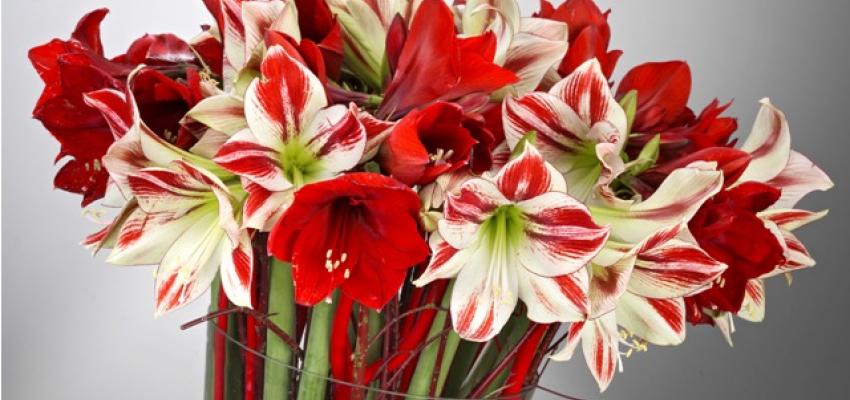 Posted on:
October 11, 2022
Amaryllis are cultivars of the genus Hippaestrum.These gorgeous flowers are cut from bulbous plants, open slowly, and last up to ten days in a vase. Also called the Belladonna Lily although they are a very distant relative to the true Lilium.
We source our Amaryllis from The Netherlands. Some of the varieties are available year round and others are only available during the winter months.
Galaxy Group: These are standard Amaryllis, generally we sell a 75 cm length and in boxes of 15 stems, although 8, 10 & 12 boxes are also available in most varieties. Available in Red, White, Cherry, Apricot, Burgundy, Orange and Bi-Colour. Some common varieties are Mont Blanc, Ferrari, Rilona, and Royal Velvet.
Nymph Group: These are the double petaled varieties, generally 70 cm in length commonly sold by a box of 10-12 stems. Available in Red, Pink, White, Burgundy and Cherry.
Spider Group: These blooms have spikier petals, generally 60-70 cm in length and commonly sold in boxes of 18-20 stems. They are available in two tone shades. Varieties include Tango,
Merengue and Tarantula.
Colibri & Diamond Groups: These groups include some of the smaller bloom and regular size bloom Amaryllis, generally 60-75 cm in length and commonly sold in boxes of 18-20 stems. Varieties include Costa Blanca, Rapido, Lilliput, Paris & Picasso.
AMARYLLIS CARE
Fresh Amaryllis are best stored, for the week, uncut in the box in your cooler until ready to use. Amaryllis should be cut on an angle and placed in tepid clean water for about twenty minutes prior to going into water with preservative. They can also be hydrated by filling the hollow stem with water and placing cotton in the end. As with any lily, removing the anthers from the filaments prior to them pollinating both extends bloom life and keeps the powdery dust from falling and marking the petals.